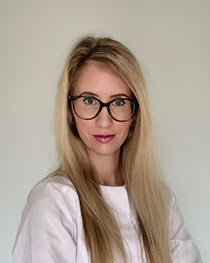 Adult Dermatology
After obtaining her federal diploma in Medicine at the University of Geneva in October 2013, she continued with 2 years of internal medicine between the University Hospitals of Geneva and the Center Hospitalier du Valais Romand then began her training in Dermatology and Venereology for 4 years. at the HUG, followed by a year at the Bellinzona EOC hospital until October 2020.
She obtained her doctorate in medicine in March 2018, then the European certification of Dermatology and Venereology in August 2019, and finally the title of FMH specialist in Dermatology and Venereology in October 2020.
She worked for 18 months as head of clinic in the hospital and outpatient sector of the HUG, taking care of complex and varied pathologies. During her course, she participated in clinical studies, particularly in the field of inflammatory dermatoses and cutaneous ulcers, and contributed to medical scientific publications.
She joined Skinpulse Dermatologie in July 2022