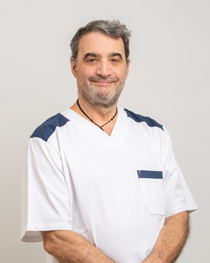 Surgical Dermatology and cosmetic dermatology
Federal Diploma of Medicine in September 1982, in Geneva.
Training in peripheral hospitals in General, Vascular and Plastic Surgery from 1982 to 1990.
Training in Dermatology at the University Hospital of Geneva from 1990 to 1994, then head of the surgical  and laser after additional training in the USA, Middle West (Pr. Tim Rosio, Marshfield, Wisconsin).
In 1992, he introduced in Switzerland Mohs Micrographic Surgery according to Mohs standards for the treatment of skin cancers (carcinomas).
1994, Doctor of Medicine and Specialist in Dermatology FMH.
In October 1994 opened SKINPULSE Dermatology Center
In October 2007 opened SKINPULSE Beauty Center.
Currently, Medical Director of the two Centers.
Consultant at the Dermatology Clinic at the Inselspital in Bern for lasers.
Member of numerous national and international societies of Dermatologic Surgery, lasers and aesthetic.
Past President & Honorary member of ESLD (European Society for Laser Dermatology).
Permanent crew member in the Withbread Around The World Yacht Race (permanent crew and medical officer) on UBS Switzerland 1985/86, winner in its category.