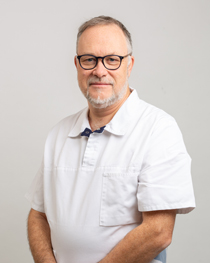 Adult Dermatology
Federal Diploma of Medicine, March 1988 in Geneva.
March to October 1988 participated in the first Switzerland campaign for melanoma screening.
After three (3) years of Clinical Pharmacology and Internal Medicine at the University Hospital of Geneva, he began his training in dermatology.
Doctor of medicine in 1990.
Specialist FMH in dermatology and Venereology in October 1996.
Joined Skinpulse Dermatology Center in 1997.
Consultant at the Dermatology Clinic of the University Hospital of Geneva in the fields of Skin Allergy and treatments (phototherapy) UV since 1997.
Lecturer in Dermatology at the University of Geneva Hospital since 1995.
Member of the Swiss and European Allergy and  Dermatology Societies.