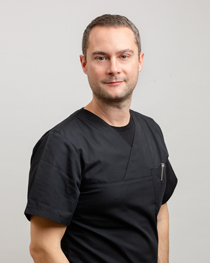 Dr. DELLA TORRE obtained his federal diploma in Medicine in Geneva in 2007, passed his specialty exams in Dermatology and Venereology in 2011 and acquired the title of Dr. med in 2012 at the University of Bern. He was certified in Dermatology and Venereology FMH in 2014.
He trained in Dermatology and Venereology at Bern University Hospital (Inselspital) between 2008 and 2013 and gained the post of chief medical officer in July 2013. He became head of department and led the dermatosurgical unit until January 2020. In 2016 he gained subspecialty expertise in dermatological surgery, Mohs surgery and aesthetic dermatology in the Netherlands, France and Spain. He currently maintains an academic affiliation with the university hospital in Bern (Inselspital) with a medical consultant post.
He is a member of the Swiss and European Dermatology Societies as well as the European Society of Mohs Microsurgery (ESMS).
He is a member of the management committee of the Swiss Dermatology and Venereology Society (SSDV) and secretary of the Swiss dermatosurgery working group.
He joined the Skinpulse Dermatology Geneva team in December 2016.